Just before Christmas last year, Will was working in Canberra. One week Will had to stay there until Friday and was due back late Sunday evening. Rather than let this scupper our weekend, we met midway on the NSW South Coast and spent the weekend in Wollongong and its surrounding areas. This impromptu decision turned out to be one of our favourite weekend trips from Sydney.
There are so many destinations to explore on the NSW South Coast. The NSW South Coast ranges south of Sydney all the way to the border with Victoria. The beautiful, unspoilt coastline makes this area perfect for weekend trips from Sydney. We decided to spend a coastal weekend in Wollongong as it's only an hour and a half train ride from Central Station, and you can use your Opal card too. The whole return cost me just over $10. It took Will roughly 2 and half hours' drive from Canberra.
Check out Lonely Planet Australia for more tips when planning your weekend trips from Sydney
We also chose to spend the weekend in Wollongong as it's a great base to explore other areas on the NSW South Coast. We ventured to both Kiama and Gerringong which were easily accessible and beautiful. As restrictions continue to ease in Australia, I highly recommend Wollongong and the NSW South Coast for your weekend trips from Sydney.
Where to stay in Wollongong
There are plenty of places to stay in Wollongong, including a range of hotels, including the Sage Hotel, the Novotel (located beachside) and the Corniston Hotel. If you're looking for something a little bit more affordable, there are a range of motels or alternatively, you can check out our favourite option; AirBnBs. Most AirBnBs in and around Wollongong tend to be apartments, some with beautiful views over the beach and harbour. Our AirBnB was cheap and cheerful, and whilst it didn't make my list of favourite, unique AirBnBs, it was exactly what we needed, complete with a washing machine for Will's work shirts!
Things to do in Wollongong
There's no shortage of things to do in Wollongong, starting with the drive (if you're not taking the train like me). Take the famous Grand Pacific Drive touring route over the visually stunning Sea Cliff Bridge and enjoy this underrated stretch of coastline. Wollongong is a university town, so it's got a great bustling atmosphere and is home to lots of decent eateries and an arts scene. Check out Wollongong Art Gallery for one of the best regional collections of Aboriginal art. Wollongong is also home to some gorgeous beaches and the 'Blue Mile.' This waterfront promenade stretches from North Beach to the Wollongong Head Lighthouse. The views here are pretty special, and it's ideal for walking, swimming in ocean pools, running or cycling with lots of places to stop for a coffee.
We strolled part of the Blue Mile and hung out at both North and Main beach. Wollongong and the surrounding areas have some very well respected surf beaches, so it's worth having a beginners lesson either with Pines Surf Academy located in Wollongong itself, or with Illawarra Surf Academy located at nearby Corrimal, Thirroul and Warilla beaches. These beaches are also worth exploring too if you have time, I'm really sad we didn't make it there ourselves. If you're looking for more things to do in Wollongong, there are outstanding bushwalking tracks at the nearby Illawarra Escarpment State Conservation Area.
Things to do in Kiama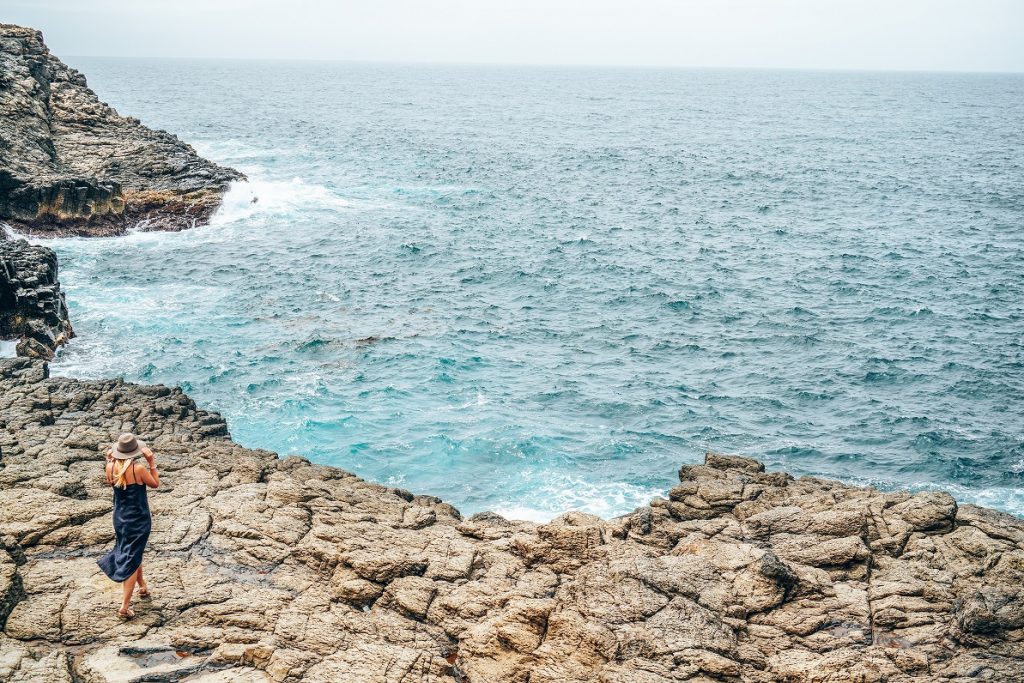 To extend your weekend trips from Sydney beyond Wollongong, drive the 30 or so minutes south to Kiama. There are lots of things to do in Kiama, a charming seaside town known for the Kiama Blowhole and Little Blowhole where seawater regularly shoots into the air. Both Blowholes are part of the Kiama Coast Walk, a 22km walk from the Minnamurra River to Werri Beach in Gerringong. Check out Blow Hole Point and the natural rock formations where we got some awesome photos of the rugged coastline. I recently found out that the Kiama Blowhole is floodlit until 1am, making for a unique nighttime attraction.
Kiama is also to some cute little shops and cafes. Kiama has its own boutique shopping trail including 19 participating stores and you can pick up a map at the Kiama Visitor Information Centre. One of our favourite things to do in Kiama was shopping at The Collective Beat. This shop is home to lots of local small artisanal businesses all in one place including clothing and homewares. I'd highly recommend checking out The Collective Beat to support these small businesses and find some unique pieces. They also have another shop in Gerringong.
Kiama also has plenty of accommodation options if you'd rather base your weekend trips from Sydney here.
Things to do in Gerringong
We also ventured further south from Kiama to Gerringong, which is a short 12 minute drive. Similar to Wollongong and Kiama, there are lots of things to do in Gerringong, and it was visiting all three spots that made this weekend one of our best weekend trips from Sydney. The Kiama Coast Walk continues down to Werri Beach in Gerringong, and we feel in love with this beach. Werri Beach is ideal for a swim with not too much swell, and is patrolled by lifeguards during the spring and summer months. It was nice and quiet when we visited – we pretty much had the whole beach to ourselves.
As you move inland from Werri Beach, you'll encounter rolling countryside with lots of food and wine experiences. Of course one of the top things to do in Gerringong for us was visiting Crooked River wines. This winery was so good it made it onto my list of favourite boutique wineries in Australia. Crooked River Wines is an award-winning, family-owned winery perched on a hilltop with stunning views over the Gerringong countryside. It was well worth a visit. We wanted to visit the highly recommended Roselea Vineyard as well but ran out of time. You can enjoy foodie experiences at the Gerringong Bakery, famous for pies and pasties, Buena Vista Farm for cooking workshops or Stoic Brewing for a nice cold one.
What to eat in Wollongong
As a university town, there's lots of cafes, restaurants and bars to enjoy in Wollongong. When deciding where to eat in Wollongong, we chose local favourite Kneading Ruby. This modern take on an Italian pizzeria was absolutely packed on the Friday night, so reserve ahead unless you're happy sitting at the bar. Two standout dishes were fried gnocchi with spicy nduja sausage and polenta chips with gorgonzola and cauliflower sauce.
For breakie, we tried both beachside Diggies and Lower East Cafe located in the main town. Both were yummy, with great coffee. Lower East Café stood out for its commitment to sustainability; you could buy keep cups, wax wraps, green cups, metal straws and water in cartons. For dinner on Saturday we decided to go to a BYOB Indian, Mango Tree Cafe, (if you've read this post, you'll know how much I love a curry). We took a bottle of wine we purchased at Crooked River Wines with us. Mango Tree had a classic menu with some more interesting dishes. We loved their Pistachio chicken curry.
Why choose Wollongong for your weekend trips from Sydney
A weekend on the NSW South Coast means beautiful, relaxing coastal views. If you choose Wollongong, Kiama and Gerringong when planning your weekend trips from Sydney, you won't be disappointed. There's so many scenic walks, viewpoints and beaches to discover, as well as great food and wine options. The best bit is how easy it is to get to Wollongong from Sydney, so you have more time to enjoy this severely underrated part of New South Wales.
Disclaimer: This post may contain affiliate links. If you purchase through my link, I may receive a small commission at no additional cost to you.