Before moving to Australia, my go-to wines were usually Italian or Spanish. Usually Australian wines had a higher price tag on any wine menu! However, with an abundance of boutique wineries in Australia, and many wineries near Sydney, it's pretty much all Will and I drink these days.
There's an abundance of wine regions and cellar doors all over Australia, with many wines showcasing and winning coverted awards at international wine competitions. With so many quality, boutique wineries near Sydney, and further afield, we've been able to taste lots of delicious wines. Wine tasting is also a perfect activity to do over a weekend, without having to take any leave from work. There's far too many regions we'd still like to explore, but in the meanwhile I've pulled together a list of my favourite boutique wineries in Australia.
Pick up your copy for the new year: Halliday Wine Companion 2020: The bestselling and definitive guide to Australian wine
I'll be updating this post as I visit more regions, but please let me know which ones I should visit in the comments.
Contents
1. New South Wales
1.1 Hunter Valley
1.1.1 Scarborough on Hermitage
1.1.2 Piggs Peake
1.1.3 Thomas Allen
1.1.4 Hart and Hunter
1.2 Southern Highlands
1.2.1 Cherry Tree Hill Winery
1.3 Shoalhaven
1.3.1 Silos Estate
1.3.2 Crooked River Wines
1.4 Mudgee
1.4.1 Vinifera
1.4.2 Heslop Wines
1.5 Hilltops
1.5.1 Grove Estate
1.6 Port Macquarie
1.5.1 Cassegrain Wines
2. Victoria
2.1 Yarra Valley
2.1.1 TarraWarra Estate
3. Tasmania
3.1 Relbia
3.1.1 Josef Chromy
New South Wales
Hunter Valley
I'll be skimming through these wineries near Sydney as I've already written in more detail about my favourite Hunter Valley wineries
Scarborough on Hermitage
I just love, LOVE this winery! I'm not a huge chardonnay fan, so my opinion on this probably doesn't have much weight, however from what I've tasted (and based on the recommendations of others) I think this winery makes some of the best chardonnay in Australia. Their tasting room is modern and informal, with well-paired cheese to accompany your flight of wine. Their smooth, chocolate-ty  Scarborough Shiraz 2011 is still one of my top 10 Australian wines.
Visit here: Scarborough on Hermitage
Walking to Scarborough on Hermitage
Piggs Peake
This vineyard is well-renowned amongst boutique wineries in Australia, dedicated to showcasing the best of big, bold Australian reds, including our favourite, Shiraz. We tried vintages straight from the barrel inside their cellar, before grabbing lunch at their Yellow Billy restaurant next door. Whilst these wines have a higher price point, they're certainly worth investing in for a special occasion or serious cellaring if you're into that sort of thing.
Visit here: Piggs Peake
Thomas Allen
What I loved most about this winery was the friendly, laid-back service, and stunning elevated views over the Hunter. It'd be quite easy to just while away the afternoon with a glass of their delicious and fruity 2018 'Free Run' Verdelho or Thomas Allen 2016 'Encore' Shiraz, if a big juicy red is more your thing.
Visit here: Thomas Allen=
I love this extensive atlas and guide to Australian wine regions
Hart and Hunter
Hart and Hunter is an incredibly picturesque boutique winery in the Hunter Valley. It's located further away from the main drag of the Hunter Valley wineries with stunning vistas and a very small cellar door. Typically of many boutique wineries in Australia, the cellar door is very stylish and a perfect location to while away a sunny afternoon. were recommended Hart and Hunter by some good friends of ours, who are members.
We were looked after beautifully by Daniel, who really knew his stuff and gave us a huge variety of wines to taste, including some that weren't on the standard tasting menu. The highlights for us were their beautiful, vibrant Semillon and Ablington Shiraz, as well as, suprisingly their 2018 74 Days Chardonnay. This unusual chardonnay has been made by fermenting the juice on its skins for 75 days and made for not too heavy a wine, which suited us well.
The beautiful Hunter Valley
Southern Highlands
The Southern Highlands region is roughly 90 minutes drive from Sydney and two hours from Canberra, and is renowned for its rolling hills, delicious food and award-winning wines.
Cherry Tree Hill Winery
We found out about this winery when we visited Roberston and Berima for our second wedding anniversary. We treated ourselves to lunch at Eschalot and I tried a glass of the Cherry Tree Hill Off Dry Riesling 2018. It was a perfect combination of a drier Australian Riesling and a sweeter, more well-known German style and we loved it so much we went straight to the cellar door to purchase a crate! The cherry tree hill off dry Riesling 2018 wine has since become another firm favourite on my list of top 10 Australian wines. It's no surprise that we love this wine; their Riesling is recognised as the 'rising star' of their label, consistently rating gold amongst critics.
I've sent Will to the cellar door several times on his drive back from Canberra. The owners are always willing to accommodate him even when he's running very close to their closing time! This is what I love about boutique wineries in Australia; they're run by people who are truly passionate about sharing their wine with their drinkers. The Lorentz family who own Cherry Tree Hill Winery are friendly, welcoming and clearly happy to accommodate our obsession with this off-dry Riesling!
Visit here: Cherry Tree Hill Winery
Shoalhaven
Further south than the Southern Highlands, Shoalhaven includes well known locations such as Jervis Bay and Ulladulla. This beautiful coastal region is a foodie and, you guessed it, wine haven.
Silos Estate
Silos Estate, near foodie hotspot Berry, was awarded the Best Small Cellar Door, Shoalhaven Coast in 2017. Like many boutique wineries in Australia, there's more to this winery than just a cellar door. Silos Estate has a cellar door, restaurant, accommodation, a helipad and a paddock of friendly llamas. I especially loved their Australian sparkling wine from their Wileys Creek range, which was crisp and refreshing, but also enjoyed their Silos Estate Shiraz options. Silos Estate, one of the better wineries near Sydney in my opinion, is a perfect place to stop off and stock up if you're heading down south to Jervis Bay for the weekend.
Visit here: Silos Estate
View of Silos Estate
Crooked River Wines
We discovered Crooked River Wines recently during a spontaneous weekend down south, when I started searching for wineries near Wollongong. Crooked River Wines is a 15 minute drive from Kiama, and 40 minutes from Wollongong, located in Gerringong with stunning mountain views. Like many boutique wineries in Australia, Crooked River Wines is family-owned. We were helped during our tasting by the grandson of the owner who established the winery in 1998, who was incredibly welcoming and knowledgeable about the wines on offer.
Their white wines in particular stood out; we ended up purchasing several bottles of their 2018 Estate White (a blend of Reisling, Sauvignon Blanc and Semillon) and their 2018 Classic White, a Semillon Sauvignon Blanc blend. We also enjoyed their 2015 Shiraz Black Label, which won a coveted award for best red wine in New South Wales in 2015. They offered several wines using the Chambourcin hybrid grape, which was a unique grape to try in Australia. The restaurant was closed when we visited due to hosting a wedding, but they had cheese platters and oysters available to accompany their wines. They also offer really fun events, such as 'yoga in the vines' and if you're more into beer, there's a microbrewery. What else could you need? If you're looking for wineries near Wollongong I highly recommend Crooked River Wines.
Visit here: Crooked River Wines
Will and I on our visit to Crooked River Wines
Mudgee
The rural town of Mudgee is absolutely perfect for a country weekend getaway from Sydney. Mudgee is a 3 1/2 hour drive west from Sydney, and is a epicurean's gourmet dream! With fantastic wineries set in the countryside and a burgeoning food scene, I absolutely loved visiting Mudgee and can't wait to return. 
Vinifera
Voted Mudgee's best small cellar door in 2017 by Gourmet Traveller Wine, Vinifera is arguably one of the best wineries in Mudgee. It's a beautiful example of why I love boutique wineries in Australia. It's family-owned and certified organic, focusing on Spanish varietals. We explored several Mudgee wineries over the October long weekend, and Vinifera stood out. Vinifera had live music and special drinks deals on offer, with lots of comfy, boho seating outside in the sunshine to admire the stunning Mudgee hills. Vinifera quite often hosts pop-up events, so it's worth checking out their events calendar to see what's booked in.
We actually really enjoyed their dessert wine, not a normal favourite, a 2013 Organically Grown Easter Semillon, with strong peach notes. Another thing that makes this one of the best wineries in Mudgee is the fact that it's located alongside Mudgee gourmet, which showcases local produce. It's also located alongside the Baker Williams Distillery, Mudgee's first micro-distillery of innovative spirits and liqueurs, so this location really has it all! Make sure you try the Lemon Myrtle liqueur for something really unusual.
Visit here: Vinifera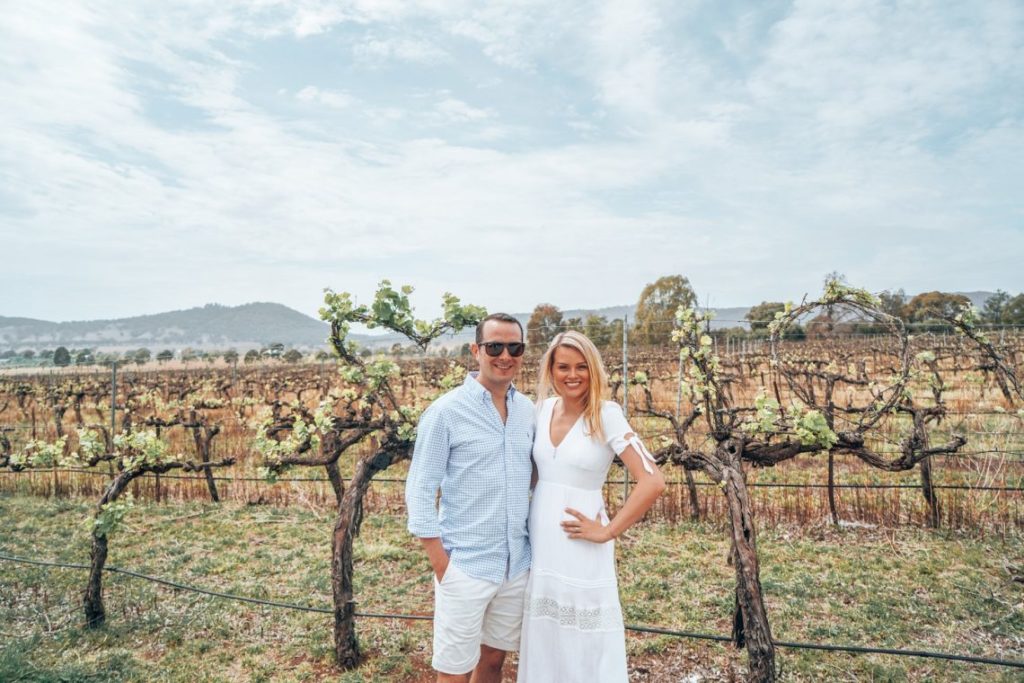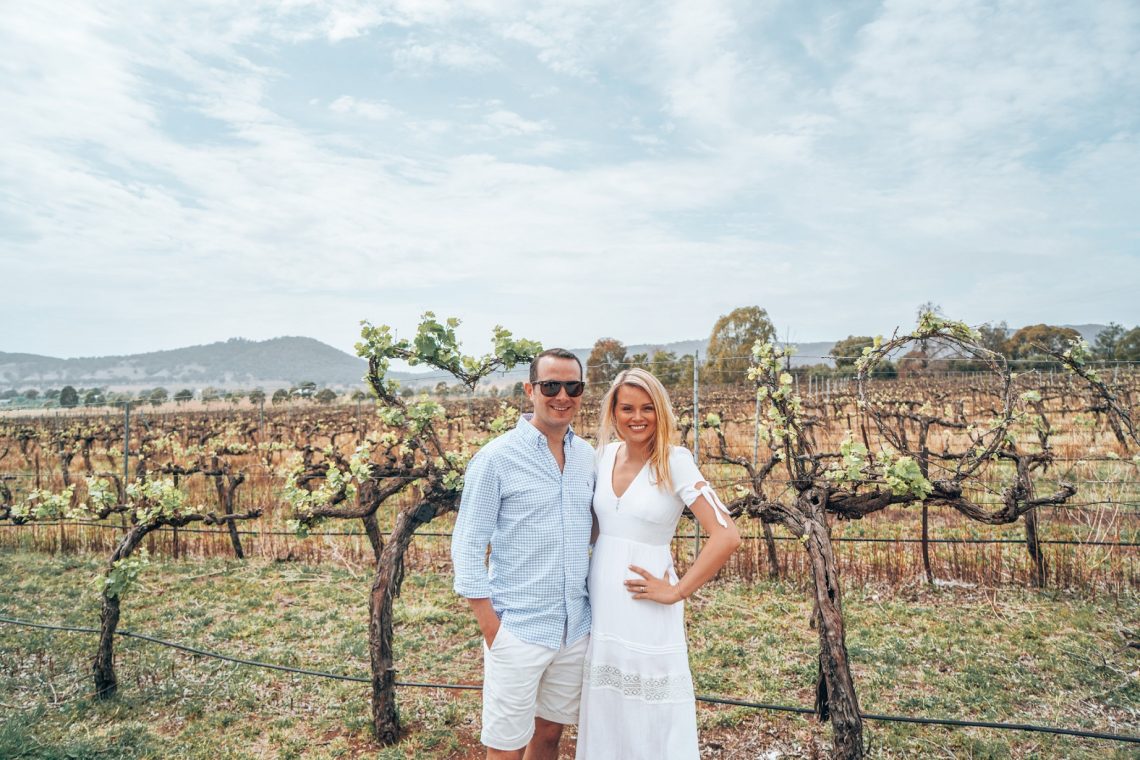 Will and I on our tour of some of the best wineries in Mudgee
Heslop Wines
This small, family-owned winery is one of the best wineries in Mudgee in my opinion. They're still constructing their straw bale warehouse and cellar door, so meanwhile tastings are taking place in The Cottage Tasting Room. This happens to be the families own home! In our case, we had our tasting in the warehouse using the drain for a spit bucket! This certainly made it one of the most unique experiences we've had visiting boutique wineries in Australia. Bob, the owner, held our tasting in the warehouse and showcased the winery's distinct varietals and approach, 'a philosophy of conservation and moderation' involving minimal intervention during production.
I didn't love every wine I tasted, but to me what made Heslop Wines one of the best wineries in Mudgee was their wide range of varietals that aren't that common in the other boutique wineries in Australian we've visited, creating original, bold flavours. Their Touriga Nacional, a varietal commonly found in Portugal, is award-winning, and we enjoyed their Mr. Rascal 2017 Zinfandel, another grape we haven't seen much outside of California.
Visit here: Heslop Wines
The outside of Heslop Wines
If you're looking for somewhere to stay in Mudgee, check out Wine Lover's Den
Hilltops
The Hilltops region encompasses the rural towns of Young, Boorowa, Harden and Jugiong. It's roughly 90 minutes from Canberra and 4 hours from Sydney. The Hilltops wineries are growing in critical acclaim. Some wineries don't yet have cellar doors, but you can taste a wide selection at the Young Visitor Information Centre.
Grove Estate
We visited Grove Estate, one of the Hilltops wineries, during a weekend spent in the rural NSW town of Young. I hadn't heard of the Hilltops wineries before; these smaller wineries focus on cool-climate wines and are building up a  fantastic reputation as must-visit boutique wineries in Australia. Grove Estate was originally a cherry orchard until in 1989 the now owner Brian decided to grow grapes. We visited Grove Estate with some locals from Young. Despite living in the nearby town, they had never visited this winery despite it having grown an international following for its wine! We visited the local IGA and came armed with a cheeseboard; all we needed was the perfect drop to go with it.
We tasted a wide selection of their multi award-winning wines, including traditional French and Italian varietals. We ended up purchasing their 'Think Outside The Circle' Rongorongo (Viognier) 2017 white and their 'Think Outside The Circle' Hilltops Cabernet Sauvignon 2016. The winery has a cute little Jack Russell-Terrier cross named Audrey who'll likely greet you whilst you're wine tasting, adding to the friendly, local ambiance.
Visit here: Grove Estate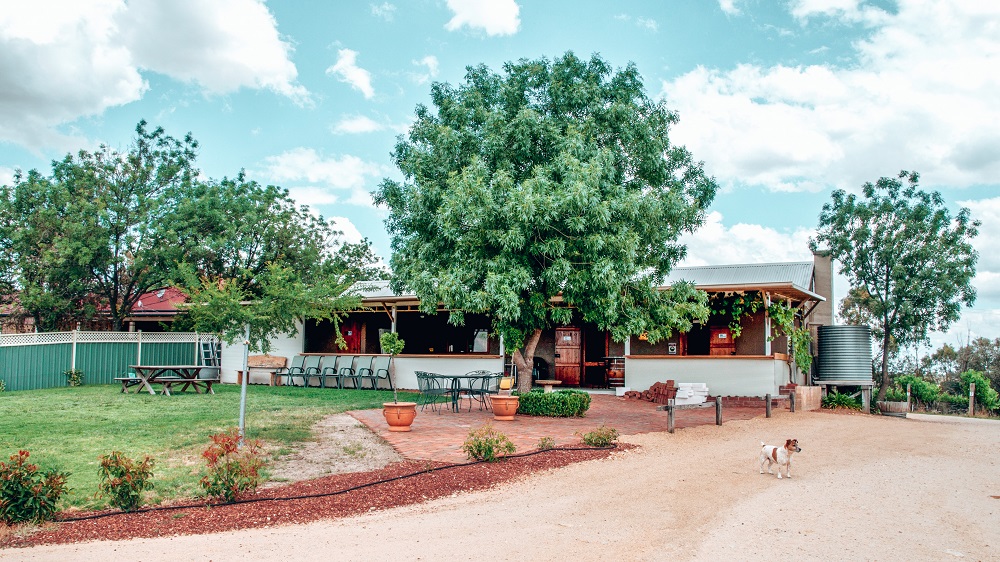 Grove Estate, with Audrey
Port Macquarie
Port Macquarie is a beautiful coastal region, 4 hours roughly north of Sydney. It's got a great year-round climate as we found out when we visited in winter. I had no idea there were wineries in Port Macquarie, so was really excited to explore the area.
Cassegrain Wines
Cassegrain Wines, located on the M1 motorway just outside of Port Macquarie, is a well-respected winery that we discovered during a North Coast Road trip. Upon arriving to a room full of barrels that led to the wood-panelled cellar door, it reminded me of a French winery. It wasn't surprising to find out that Cassegrain Wines has developed a blend of French winemaking techniques with 'state-of-the-art Australian winemaking technology,' establishing themselves firmly amongst must-visit boutique wineries in Australia.
Cassegrain is one of only a handful of boutique wineries in Australia using the traditional "Méthode Champenoise" to produce their Australian sparkling wine, making it very similar to Champagne. There's so much to this winery making it a fun day out for the whole family. There's a cellar door, winery tours, local produce and crafts for sale, a restaurant, beautifully sculpted gardens and horse riding tours. Since we visited, there's even been a new installation of one the first Telsa supercharger sites between Newcastle and Brisbane.
Visit here: Cassegrain Wines
Cassegrain Winery's beautifully sculpted gardens
Victoria
Yarra Valley
This foodie destination, surrounding the Yarra Valley, is only an hour or so from Melbourne. I've only scratched the surface with the Yarra Valley, so I can't wait for an excuse to visit more.
Tarrawarra Estate
I visited the Yarra Valley wineries back in 2016 during my 2 month stint in Melbourne and I really want go back and explore this region some more! A good friend had flown out to visit me and we decided to take a day trip out to the nearby Yarra Valley wineries, which are only an hour drive from Melbourne, which have a great reputation for pinot noir. There were several Yarra Valley wineries to choose from, but my favourite was easily the TarraWarra vineyard and art gallery. The art gallery, the TarraWarra Museum of Art, has presented over 70 temporary themed exhibitions to date.
The cellar door is creatively built into a hill and partly underground, overlooking the heritage block of Pinot Noir vines. We loved the restaurant, where we had a long lazy lunch with ingredients fresh from the vineyard's kitchen garden. TarraWarra has a great reputation amongst boutique wineries in Australia for its Pinot Noir, suited to Victoria's slightly cooler climate. I was driving so didn't get to taste as much as I would have liked, but my friend certainly enjoyed it!
Visit here: Tarrawarra Estate
View of TarraWarra vines from the art gallery
Tasmania
Relbia
The Relibia wine region in Tasmania is tiny, and incredibly picturesque, 15 minutes outside of Launceston. Relbia is part of the Tamar Valley Wine Route, a well-known trail for wine enthusiasts.
Josef Chromy
Josef Chromy's winery was one of the first boutique wineries in Australia that we visited after moving here as part of a 4-day Tasmanian road trip. I'm obsessed with Australian sparkling wine, which I find very similar to champagne in method and style, and Tasmanian sparkling wine, including at Josef Chromy, did not disappoint. Josef Chromy himself emigrated from war-torn then Czechoslovakia in 1950 at 19 years old and settled in Tasmania, launching Blue Ribbon Meat Products which is now one of Tasmania's leading brands before investing in the wine industry, and launching Josef Chromy wines at the age of 76.
The winery is located a short 15 minute drive from Launceston in the Relbia region. We visited the restaurant for lunch, which has a well-deserved reputation for showcasing delicious Tassie produce. I paired my trout starter with the Tasmanian sparkling wine, Josef Chromy NV Tasmanian Cuvee, before enjoying the Sauvignon Blanc with my market fish. We followed lunch with a tasting at $5 each, refundable if you purchase a bottle. It was a perfect finish to a lazy, sunny afternoon in the rolling hills of the Tassie countryside.
Visit here: Josef Chromy
The stunning view from Josef Chromy Wines in Tasmania
Enjoyed this post? Pin it below;
Disclaimer: This post may contain affiliate links. If you purchase through my link, I may receive a small commission at no additional cost to you.