According to a recent report, 30% to 40% of Americans cheat on their partners. This statistic speaks a lot, and if you have reservations about your spouse's recent acts, it might be time to snoop on their mobile devices.
How do you execute this delicate activity with Android and iOS phones getting security updates fortnightly? Spy applications.
Known for their monitoring-related capabilities, you can use these apps to get a hold of your partner's activities 24/7. With spyware, you can see your spouse's texts, calls, GPS location, and multimedia without the hassle of snooping on their smartphones. It's just like having their phones in your hands!
However, with tons of options available on the Internet, this article will look at the top 8 spy apps that allow you to sift through your partner's device with relative ease.
Ready to learn how to know if someone is cheating on you? Keep your reading glasses on as we take the plunge!
How to Find Out If Your Partner Is Cheating With a Spy App?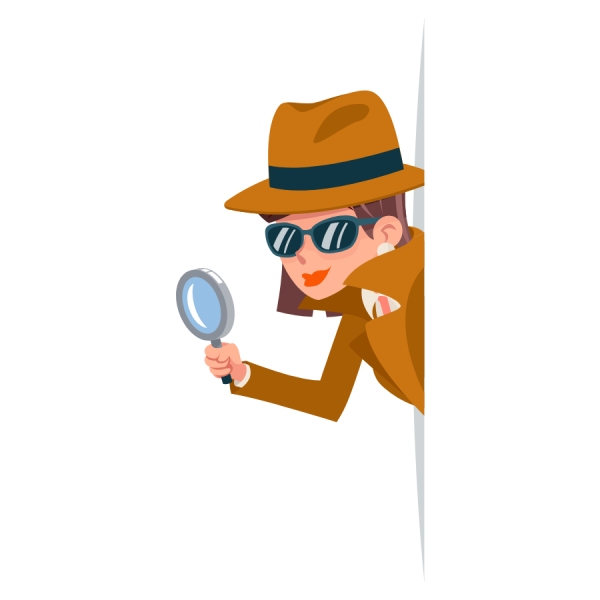 To spy on your partner's phone successfully, we advise using spyware. Spy apps guarantee 100% stealth and remote monitoring 24/7.
So, what are spy applications? Spy apps are software explicitly created to monitor a person's cell phone remotely. Using spyware, you can see someone's call logs and messages stealthily.
Most spy applications have "dashboards" that give you access to the vital segments of a target's smartphone. Your dedicated dashboard is updated regularly to keep you in sync with your spouse's activities all day long.
How Do Spy Apps Work?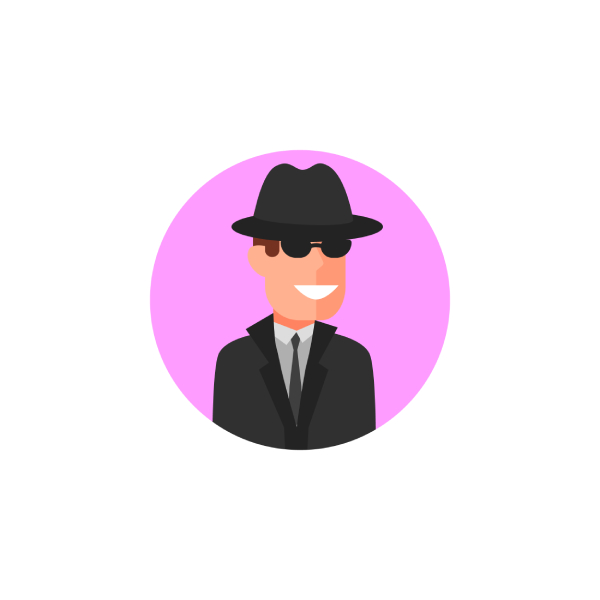 Each spyware has its unique specifics. However, the goal remains the same — monitor a device remotely.
To use a spying service, the first thing you'd need to do is enter a subscription plan. Then, after making a payment, download the application on the target's cell phone.
You'll need to insert a unique code to link the target device to your dashboard.
Afterward, log into your account using a web browser. Now, you'll see texts, messages, multimedia files, and GPS location on your partner's devices.
Most spy applications integrate Stealth Mode. With this add-on active, these apps will gather information in the background. Thus, the target remains unaware of your monitoring activities.
Notable Spy App Features
Spy applications offer tons of features if you're looking to know how to catch your partner cheating.
Notable mentions include:
GPS location tracking
Text message tracking
Instant Messaging (IM) app monitoring
Call log tracking
Screen Recorder
Keylogger
Geofencing
Application monitoring and blocking
Website history tracking
NOTE: If you'd like to get your spying acts started on a high, use a spying service that integrates Demo mode. That way, you can test the waters before taking the full plunge (subscribing).
Top 8 Apps to Spy on Your Partner's Phone: User's Choice
Inserting the "best app to spy on your partner's phone" query on Google will see many options pop up.
Although these alternatives may claim to offer the best monitoring services globally, note that most of them are scams.
Since you'd like to get your money's worth, we've gone the extra mile to sift out eight spy applications that'll get you updated with your partner's activities 24/7.
Here are the alternatives that make the cut:
#1 mSpy: Find Out If Your Partner Is Cheating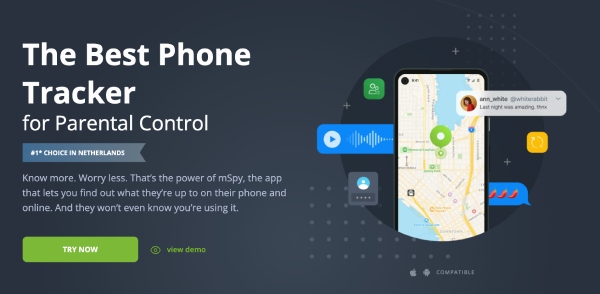 In the smartphone monitoring scene, mSpy dictates the pace for others to follow. With 36+ functionalities in its vast résumé, consider the mSpy application if you want to learn how to spy on someone without hassles.
Compatible with Android and iOS phones, installing the mSpy app is hassle-free, and you should complete this procedure within 5 minutes. To ensure app usage is as smooth as it gets, mSpy has 24/7 support in the mix.
Features
Manage incoming and outgoing calls
Track sent and received text messages
Read Instant Messaging (IM) applications
Track GPS location
Control programs and applications
Screen Recorder
View multimedia files
Monitor Internet activity
Read emails
Monitor contact list and calendar
Special Feature: Track GPS Location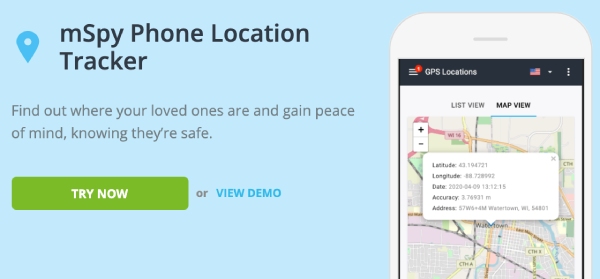 This mSpy functionality offers insight into knowing how to catch a cheater by giving you unrestricted access to their real-time location.
That's not all: You can set safe zones with the "geofencing" feature. Thus, if your partner leaves one of these areas, you'll get an instant alert.
Price
1 Month Premium: $48.99
3 Months Premium: $27.99 per month
12 Months Premium: $11.66 per month
Key Statistics
Supported Platforms: Android and iOS
Live Demo: Yes
GPS Location Tracking: Yes
24/7 Support: Yes
Free Trial: No
Money-Back Guarantee: 10 days
#2 eyeZy: Spy on Someone Anonymously

Next on our list is eyeZy, a spying service that seeks to reinvent the remote monitoring landscape with futuristic add-ons. Tagged "the most powerful phone monitoring software on the planet," eyeZy makes monitoring your spouse's messages, calls, GPS, and media files easy.
One aspect that stands out with eyeZy is its installation process. Unlike some other apps that make this activity challenging, eyeZy has a "Friendly Installer" to get you past this process without breaking a sweat.
Operating in "Stealth Mode," eyeZy answers the typical "how to spy on your spouse's phone without them knowing" question comprehensively.
Features
Keystroke Capture
Social Spotlight
Pinpoint
Plans Breaker
Invisible Shield
Phone Analyzer
Files Finder
Web Magnifier
Connection Blocker
Magic Alerts
Special Feature: Social Spotlight

Are you yearning to know how to spy on your partner's phone? If so, the Social Spotlight function on eyeZy is bound to come in handy.
This add-on gives you insight into the exchanged chats on your partner's device. It trawls data from popular social media channels like Tinder, Facebook, Kik, and Snapchat.
With Social Spotlight in the mix, nothing gets past you as it retrieves deleted messages from the target phone.
Price:
1 Month: $47.99
3 Months: $27.99 per month
12 Months: $9.99 per month
DID YOU KNOW: The subscription plans available to new users are discounted. For renewals, you'll pay the full amount to use eyeZy.
#3 ClevGuard: Spy on Your Spouse's Phone Without Them Knowing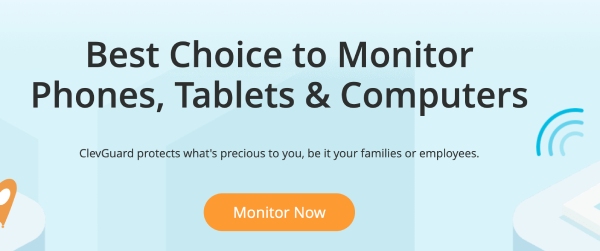 Are you interested in learning how to catch cheaters on iPhone and Android cell phones?
Now's the time to look towards ClevGuard.
Using this spy application, you can seamlessly monitor your partner's texts, GPS location, and multimedia files without breaking a sweat.
Available in 200+ jurisdictions with a 97% satisfaction rate, ClevGuard goes a step further by offering one of the rarest spy app features — call recording.
Features
Web blocker
App blocker
GPS location tracking
Call filter
Activity report
Call logs
Keylogger
Social media tracking
Capture screenshots
Record calls
Special Feature: Call Recording
With ClevGuard, you can easily record your partner's incoming and outgoing calls from your home's comfort. To use this feature, log into your dashboard and tap on "Record" whenever they're on a call.
Talk about an app that's as revolutionary as it gets!
Price
Android
1 Month: $29.95
3 Months: $16.65 per month
2 Months: $8.32 per month
iOS
1 Month: $39.95
3 Months: $19.97 per month
12 Months: $9.16 per month
WhatsApp
1 Month: $19.95
3 Months: $13.32 per month
12 Months: $7.50 per month
LINE
1 Month: $19.95
3 Months: $13.32 per month
12 Months: $7.50 per month
iCloud
1 Month: $29.95
3 Months: $16.65 per month
12 Months: $8.32 per month
Windows (MoniVisor)
1 Month: $49.95
3 Months: $26.65 per month
12 Months: $10.82 per month
#4 SpyBubble: Know If Someone Is Cheating on You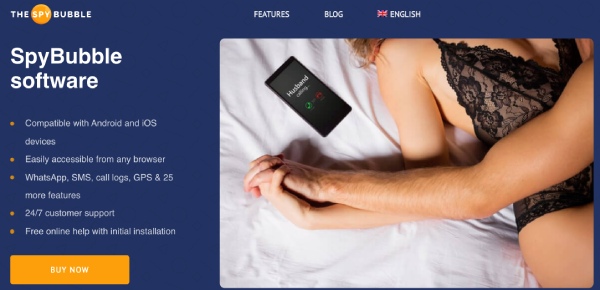 Another top-tier spy app is SpyBubble. With SpyBubble in the thick of things, you can spy on your spouse's cell phone without them knowing.
Featuring 25+ add-ons, SpyBubble is tagged as a jack of all spying trades. Getting started with this application is straightforward, and with free help at your disposal, you can go through installation within minutes.
Compatible with iOS and Android devices, SpyBubble is 100% secure. Thus, you can commence monitoring activities without unlicensed entities accessing trawled data.
Features
Call monitoring
SMS commands
GPS location tracker
Instant Messaging (IM) application tracking
Social media and website monitoring
Alerts on prohibited actions
YouTube and email tracking
Application blocking
Photo monitoring
Access contacts and notes
Special Feature: SMS Commands
Fancy the possibility of sending texts from someone's device? SpyBubble's SMS command add-on gives you the chance to do this.
That's not all: You can also delete information from the target device from a remote location.
So, if you've been looking for the perfect software on a target device, SpyBubble should make your bucket list with add-ons as futuristic as "SMS commands."
Price
1 Month: $49.99
3 Months: $27.99 per month
12 Months: $11.66 per month
#5 XNSPY: Catch a Cheater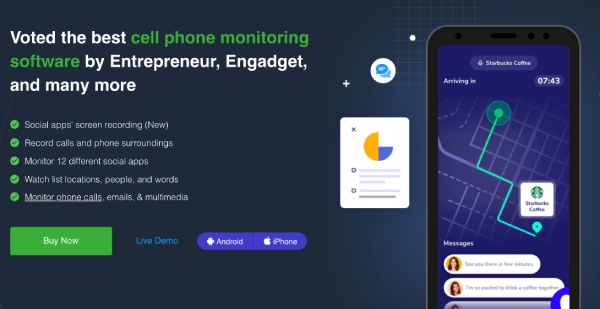 Do you want to catch a cheater red-handed? You might want to consider the comprehensive spying services of XNSPY. Using this spy application, you can monitor the real-time GPS location of your partner and see whether they're at suspicious sites.
XNSPY has a live chat that's available 24/7. Are you looking to go the DIY route?
This spy application has an extensive FAQ segment to resolve your nagging questions.
Features
Call history
Incoming and outgoing text tracking
Call log monitoring
Access to calendar
App monitoring and blocking
GPS location and location history
Keylogger
Remote phone lock
WiFi network logs
SIM card change alerts
Remote screenshots
Social media monitoring
And lots more!
NOTE: Some of the features listed above are peculiar to select OSs. Therefore, visit the "Features" section to see what add-ons are available for Android and iOS devices.
Special Features: Remote Phone Lock
If you feel your partner is about to commit a sinister act with their phone, you can lock it irrespective of your location.
All you need to do is log into your "Control Panel" and set the lock.
Price
Premium
1 Month: $35.99
3 Months: $19.99 per month
12 Months: $7.49 per month
Basic
1 Month: $29.99
3 Months: $13.99 per month
12 Months: $4.99 per month
#6 Spynger: Catch Cheaters on iPhone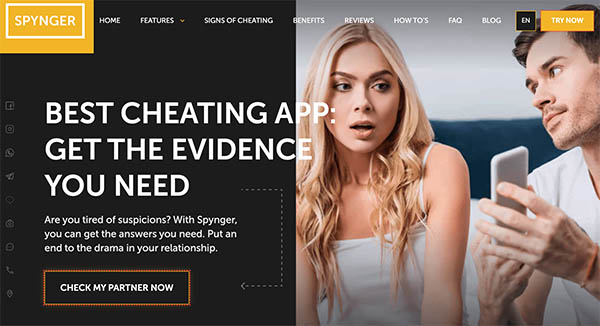 Do you think your partner has been dishonest, and you want to get wind of their activities 24/7?
Spynger is the ideal fit for your spying endeavors.
A spy app that showcases innovation, you can use the Spynger app on Android, iOS, and PCs. With this spy app active on the target device, you can see their texts, calls, multimedia files, and Internet history. 
Using Spynger Express, you can order spy devices for cheating spouses. So, while it seems like a gift to them, they're unaware that Spynger is pre-installed.
Talk about the perfect Greek gift!
Features
Phone call recording
Social media tracking
Call log monitoring
Location tracking
Geofencing
Keylogger
Multimedia access
Automatic remote updates
Hidden mode
Remotely restart device
Browser activity
SIM changed notification
Special Feature: SIM Changed Notification
When the target phone changes its SIM card, Spynger will notify you immediately. This add-on is crucial as it lets you know if your partner uses the other SIM to facilitate affairs with someone else.
Price:
Lite
Premium
1 Month: $68
3 Months: $99
12 Months: $149
Extreme
3 Months: $199
12 Months: $149
#7 Highster Mobile: Find Cheating Spouse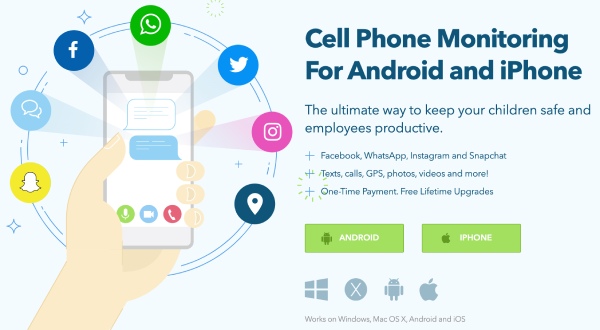 Highster Mobile is a feature-packed spy app that gives you access to someone's iOS and Android cell phone without hassles.
Using this futuristic application, you can monitor your spouse's phone and get instant alerts when they're up to something sinister.
To get your spying adventure on a well-deserved high, Highster Mobile has resources to point you in the right direction.
The installation procedure is simple, and you can adopt the OTA (Over The Air) method on the cell phone you'd like to mirror 24/7.
Features
SMS tracking
GPS location monitoring
Social media tracking
Access to photo and video logs
Call history monitoring
Stealth camera
Access to Internet history
Special Feature: Stealth Camera
This add-on allows you to take photos with the target's device remotely. So, if you suspect that your partner is meeting with a secret lover, you can use this feature to confirm your suspicions.
Price
Basic: $29.99
Pro: $69.99
IMPORTANT: As an ongoing offer, Highster Mobile will not charge you after your initial subscription. Just think of the spying service as one interested in granting you access to a lifetime of seamless cell phone monitoring.
#8 Spyera: Spy on Partners iPhone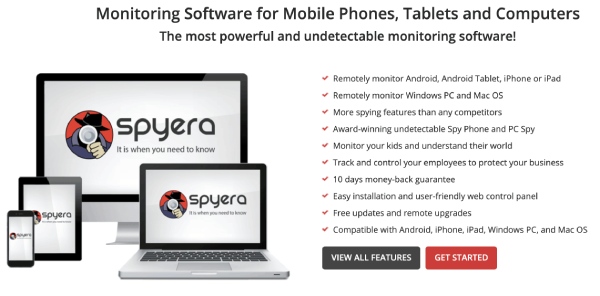 Spyera ranking last on our listing doesn't take away the fact it's an excellent spy application available on iOS, Android, Windows, and macOS. The spy app begins to uncover secrets upon installation.
Spyera gives you access to your spouse's activities in real-time. Therefore, you know what they're up to 24/7 and can confront them with rock-solid proof if required.
Features
Live call recording
Surrounding listening
Remote camera
Keylogger
App screenshots
Call notifications
Social media tracking
Track SMS and MMS messages
Network connections list
Monitor print jobs
Browsing activity
Email monitoring
Monitor installed applications
Multimedia files
GPS tracking and geofencing
Remote updates
Remote restarts
And lots more!
Special Feature: Monitor Print Jobs
Is the target printing incriminating information from their PC? The "Monitor Print Jobs" gives you an overview of all printed jobs (past & present) on your spouse's PC.
You can see if these documents are work-related or files that indicate infidelity.
Pricing
Smartphone: $69 per month
Computer (Mac and Windows): $49 monthly
All in One (all devices): $479 for a year
DID YOU KNOW: Spyera lets you make payments via Bitcoin. Also, there's a 10-day money-back guarantee on all subscription packages. How pleasant!
FAQ
How Can I Spy on a Cell Phone Without Installing Software on the Target Phone?
You can only track iOS smartphones without installing software. All you need to do is subscribe to a spy service and log into your dashboard.
Now, insert the target's iCloud credentials and confirm the device. Afterward, you'll be able to see the device's GPS location, texts, and multimedia files.
Note that you might encounter issues if the target has two-factor authentication enabled.
How to Know If Your Partner Is Cheating on You?
Here are some tell-tale signs confirming your partner's infidelity:
They use their phones at odd hours
They begin to password specific applications
They spend more time grooming themselves
You can contact them at certain periods
Their friends are uncomfortable around you
You spot irregular transactions on their receipts
What Is the Best App to Spy on a Cheating Partner?
mSpy. With over 30 features up its sleeves, mSpy gets you updated with your partner's activities 24/7. 
What's better? Using the mSpy application is straightforward, and with support in the mix, you can resolve issues that pop up during the installation process.
How to Find Out If Someone Is Cheating for Free?
To know if someone is cheating on you for free, we recommend snooping on their phones when they aren't looking. However, the chances of you getting caught are high.
Thus, we recommend shifting your focus towards spy applications. With some applications offering free trials, you can track your partner's device for a specific period before subscribing.
Final Thoughts
Do you suspect your partner of cheating, and you'd like to get detailed evidence of their infidelity? We've taken the time to sieve out the best eight spy applications for this activity. Since these apps function in Stealth Mode, you can see their texts, calls, GPS location, and media without them knowing.
Although the listed spy apps get the job done, you may want to consider mSpy for 100% efficiency.
With 36+ functionalities available, mSpy makes spying easy. Additionally, you don't need to spend a fortune as the app has cost-effective subscriptions.