In April 2019, Will and I embarked on a luxury Northern Territory Road Trip, one of our most memorable adventures to date. We explored Darwin to Uluru and onwards to Kings Canyon. 16 days, 2,700 kilometres (1,677 miles), limited phone reception and what felt like limitless time, a massive luxury in itself!
'There's time enough for everything in the Never-Never'

Jeannie Aeneas-Gunn, We of the Never-Never
Why you should go on a luxury Northern Territory Road Trip
I had many preconceptions of the NT before visiting, believing a Northern Territory road trip would be tough-going; too hot, too long, too basic. I couldn't have been more wrong.
Check out my Published Articles for samples of work on the Northern Territory
Yes, I nearly walked into the webs of some absolutely monstrous spiders, we met some rather odd characters and being sweaty was the new norm, however we stayed in some unbelievable luxury accommodation, experiencing iconic Northern Territory glamping, and went on some bucket-list adventures. The scenery is simple breathtaking; from the waterfalls of Litchfield National Park to the desert majesty of Uluru. As stereotypical as it sounds, a Northern Territory road trip allows you to experience the 'real' Australia. If you are adventurous at heart, Crocodile Dundee was part of your childhood, but you're not willing to sacrifice your creature comforts, follow this 16-day luxury itinerary to explore Australia's Northern Territory.
Contents
1. Darwin and Litchfield National Park
2. Mary River Wetlands and Kakadu
3. Katherine and Mataranka
4. Alice Springs
5. Kata-Tjuta and Uluru
6. Kings Creek Station and Kings Canyon
Darwin and Litchfield National Park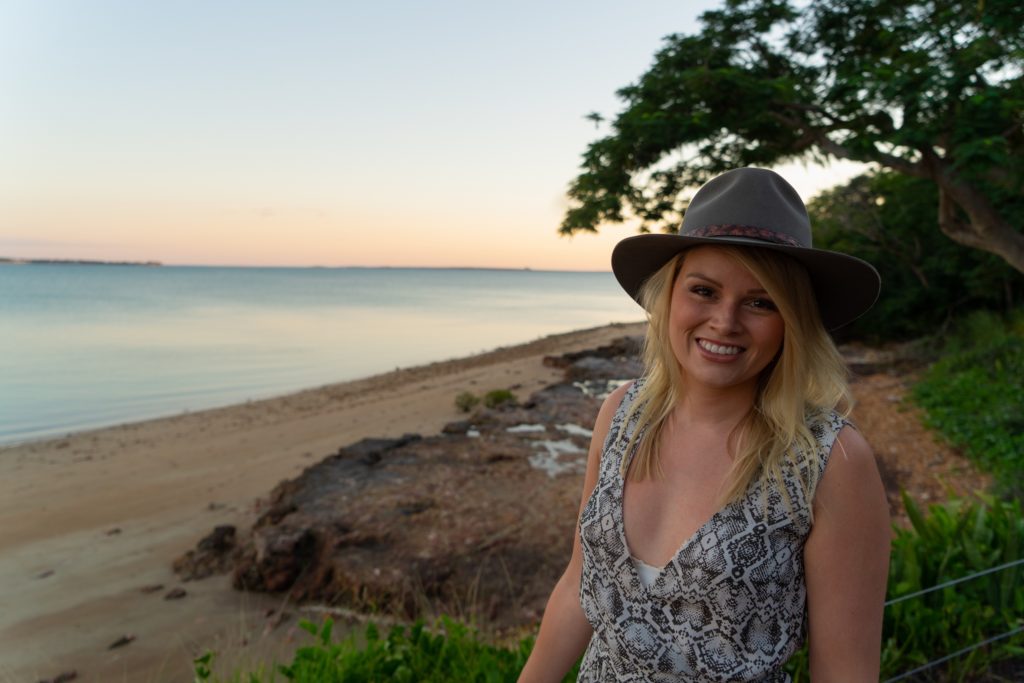 We started our Northern Territory road trip in the 'Top End', spending our first few days getting acclimatised in the tropical, laid-back city of Darwin before hitting the road. There's debate around the best time to visit Darwin, as the Top End has two distinct seasons, the Wet and the Dry. We opted for the shoulder season, at the end of the Wet season. This meant we still got to enjoy the wild swimming and lush greenery of the top end, with manageable humidity, whilst not being drenched in tropical storms every day. Not everything was open in Darwin, notably the famous outdoor Deckchair cinema, but the NT isn't overun with tourists so we found April a great time to visit Darwin.
We caught a Jetstar flight from Sydney after work on a Friday, landing close to midnight. Exhausted, and immediately sweaty, we grabbed a quick 15 minute uber to our hotel. Our driver, John, was a quintessential Territorian; tanned, wearing a wife beater, so relaxed it took him a good few minutes to finish a sentence and most notably, incredibly welcoming. We knew when we were in a completely different part of Australia to metropolitan Sydney when he started describing wading through croc-infested mangrove swamps to find mud crabs as a first date idea. John dropped us off at the H Hotel, a relatively modern and centrally located accommodation option. There were some other pricier and probably nicer options down by the waterfront but we had allocated more of our budget towards some Northern Territory glamping options, so H Hotel suited us fine. If you're looking for other accommodation options, check out the link below.
If you're planning a trip to the Northern Territory, travel insurance is essential. Check out this comprehensive World Nomads Travel Insurance Review to find out more.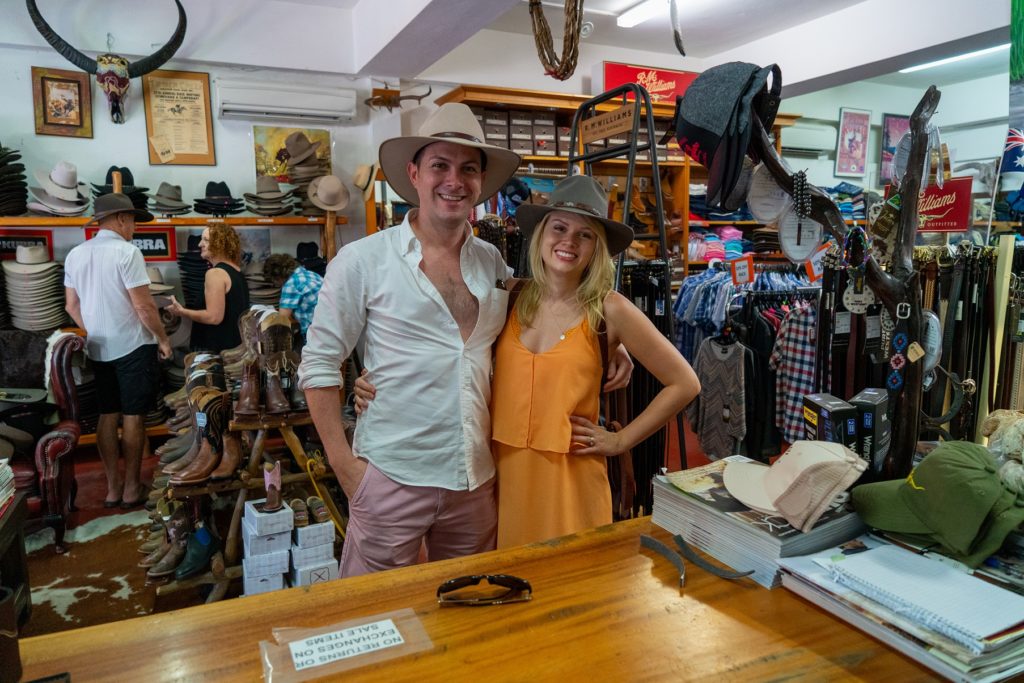 Our first 2 full days in Darwin were spent shopping, eating and exploring, before opting for one of the classic day trips from Darwin, a visit to Litchfield National Park. 2 days was plenty of time to spend in Darwin itself in our opinion and we would have been a bit restless if we'd stayed longer. If you have more than 1 day to spend in Darwin, we highly recommend the following activities;
Dinner at romantic Pee Wee's on the Point, for an iconic territorian sunset with delicious food and wine – the barramundi is a must!
Explore Darwin's waterfront, including bars, restaurants and the man made beach and wave pool
Grab fish and chips on Stoke's Hill Wharf
Grab lunch at P M and Eat, a funky venue serving small plates that wouldn't be out of place in Melbourne
If you're planning your Northern Territory Road Trip, pick up your copy of Lonely Planet South Australia & Northern Territory
On Day 3 in Darwin, it was time to take one of the classic day trips from Darwin and visit local's favourite Litchfield National Park. We'd looked into  4WD hire in Darwin for our Northern Territory road trip, giving ourselves the most flexibility for our trip with the option of exploring unsealed roads if we wanted to. We booked our car with AVIS Car Hire and collected it from Darwin Airport, however there are lots of other car rental providers offering 4WD hire in Darwin to choose from. Make sure you check the maximum kilometres allowed per day as you will be going over some of the more basic options. We opted for a 4WD Toyota Kluger that allowed an additional 300KM at 0.25 cent per kilometre plus it offered assisted-cruise-control; which made the long trips much less tiring.
The drive to Litchfield National Park takes about an hour and a half on sealed roads, but there are unsealed roads within the park itself that you can explore in a 4WD. If you're not interested in driving yourself, you can opt for one of the many providers offering Litchfield day tours. Most of our day at the beautiful and lush Litchfield National Park was spent at various well-known wild swimming spots, including Florence Falls, Wangi Falls and Buley Rockholes, as well as Tolmer Falls (not suitable for swimming but still ridiculously impressive). There were lots of hikes and shorter walks to various waterfalls to enjoy; just make sure you've invested in a good quality travel backpack for all your day trip essentials.
I've written a post on rating all of the wild swimming spots we visited in the Northern Territory, including Litchfield National Park, check it out here.
Mary River Wetlands and Kakadu
Heading east from Darwin to Kakadu, the next destination on our Northern Territory road trip was Wildman Wilderness Lodge, located in the Mary River Wetlands on the edge of the world heritage listed Kakadu National Park. The drive from Darwin is roughly 2 hours east on the Arnhem Highway. We stopped off for a quick detour just before crossing the Adelaide River at the The Original Adelaide River Queen Jumping Crocodile Cruise.
This family owned and operated tour provider runs regular 1 hour cruises on the Adelaide River where you can get up close and personal with wild estuarian (commonly referred to as salt water) crocodiles. They feed the crocodiles pork to encourage interaction, which is part of their natural diet, and try to minimise impact on the ecosystem. The sight of a 6 foot crocodile jumping out of the river not more than a metre away from the edge of the boat was both amazing and terrifying!
We arrived into Wildman Wilderness Lodge later on in the afternoon, and were greeted by owners Carol and Jerry with an iced tea and briefing of the lodge. Wildmans was the first of the Northern Territory glamping options we'd booked and we were not disappointed. Wildmans was a veritable oasis after a the long dusty drive. This safari-style lodge, a luxurious Kakadu accommodation option located in the middle of national parkland, has 15 glamping tents and 10 air-conditioned cabins, as well as an infinity pool and central lodge where the restaurant and bar are located.
We opted for the 3-night Wildman Kakadu Adventure, which includes breakfast, daily 3-course dinner with delicious food, a river cruise on the Home Billabong and a day trip to Kakadu National Park. We also added on the Leichardt Point private sundowners for a treat one evening, which included a cheese plate and bubbles at an undisturbed Mary River wetlands lookout. It turned out that we were some of the first guests for the season, as Wildmans is closed during the Wet season, and Tim the restaurant manager was in the process of writing up his cocktail menu, and tested new recipes on us including a delicious lemon myrtle gin fizz using a South Australian Green Ant Gin.
Our guide for the Home Billabong river cruise, the Leichardt Point sundowners and Kakadu day trip was Wade, a bearded bushman with aboriginal tattoos who has a deep passion for his country and land, having started guiding it Nitmiluk 15 years ago. He tells us how he met with traditional owners who opened his eyes to true understanding of the nature and history of Australia and the bush. He's also an avid photographer, and went out of his way to ensure Will had every opportunity to capture gorgeous photos. During our sundowners, he was sprawled in the grass and getting attacked by mosquitoes for the perfect sunset angle, something he's done many times!
Wade also introduced us to some of the highlights in Kakadu, a sprawling national park the size of Wales, during our day trip. If you look at a Kakadu National Park map, you'll see how massive it is, so a day tour of the highlights, including Nourlangie rock and Mamukala wetland, worked well for us. If you have your own swag or van and more time to spare, you can opt to camp in Kakadu for significantly cheaper than a stay at Wildmans. Check out the Kakadu national park website here for more information.
Katherine and Mataranka
Next stop on our Top End adventure was the town of Katherine and the Nitmiluk National Park, home to the famous Nitmiluk or Katherine Gorge. The drive from Kakadu to Katherine was a little illogical; we had to drive nearly back to Darwin before detouring back down south on the Stuart Highway, which took roughly 5 hours. We broke up the journey with a quick pitstop in Pine Creek, an old gold mining town with less than 500 inhabitants. We'd wanted to visit Mayse's café, a recommendation from Wade, but as it was Easter it was shut, so we grabbed a bite to eat at the Lazy Lizard. This tavern and caravan park is a decent stop off if you're taking this journey at a slower pace. We made another stop about 60 kilometres outside of Katherine to visit the Edith or Leliyn falls for a quick dip, located on the western side of the Nitmiluk National Park.
As mentioned above, I've written a post on rating all of the wild swimming spots we visited in the Northern Territory, including Edith Falls and those around Katherine and Mataranka, check it out here.
After a quick swim, we carried on south to Nitmiluk. We were staying at Cicada Lodge, a boutique lodge owned by the traditional custodians of the area, the Jawoyn people with the Nitmiluk National Park itself. The lodge has 18 air-conditioned villas, each with their own yoga matt, bush-inspired toiletries and fluffy bath robes. There's a 24 hour pool which is perfect for cooling off in after a day exploring the Nitmiluk gorge. All stays include complimentary sundowners and canapes, including sparkling Australian wine, so make sure you time your drive so as not to miss out! The 3 course optional dinner in their award-winning restaurant after sundowners is an absolute must with locally sourced produce cooked in innovative ways. If you're looking for luxury Katherine Gorge accommodation options, you can't go wrong with Cicada. However, if you're looking for something a little cheaper, there are decent caravan and camping options.
The next day we went on a private helicopter tour, organised through Nitmiluk Tours, over the entire gorge system to an unnamed plunge pool for some undisturbed wild swimming. As I've already covered this in my wild swimming post, I won't go into too much detail, other than to say it was one of the highlights of our Northern Territory road trip and I highly recommend it to anyone visiting the region. Afterwards we drove into Katherine for toasted sandwiches a the Black Russian Caravan Bar before heading to the Hot Springs on the outskirts of town.
After a long relaxing soak, we made the last minute decision to drive an hour further south to the town of Mataranka, a town made famous through Jeannie Gunn's famous novel, now a film, We of the Never-Never, a classic piece of Australian literature about the harsh realities of life on an outback station. There is a replica of the homestead, especially constructed for the 1980s film, in Mataranka that you can visit. We made the drive south to visit two well-known wild-swimming spots, Bitter Springs and Mataranka Thermal Pools. We also picked up a hitchhiker on the way, Tomek, a videographer from Poland who was hitchhiking his way throughout Australia with the biggest smile ever. You can check out some of his work on YouTube here.
Purchase your copy of We of the Never-Never from Amazon here
Alice Springs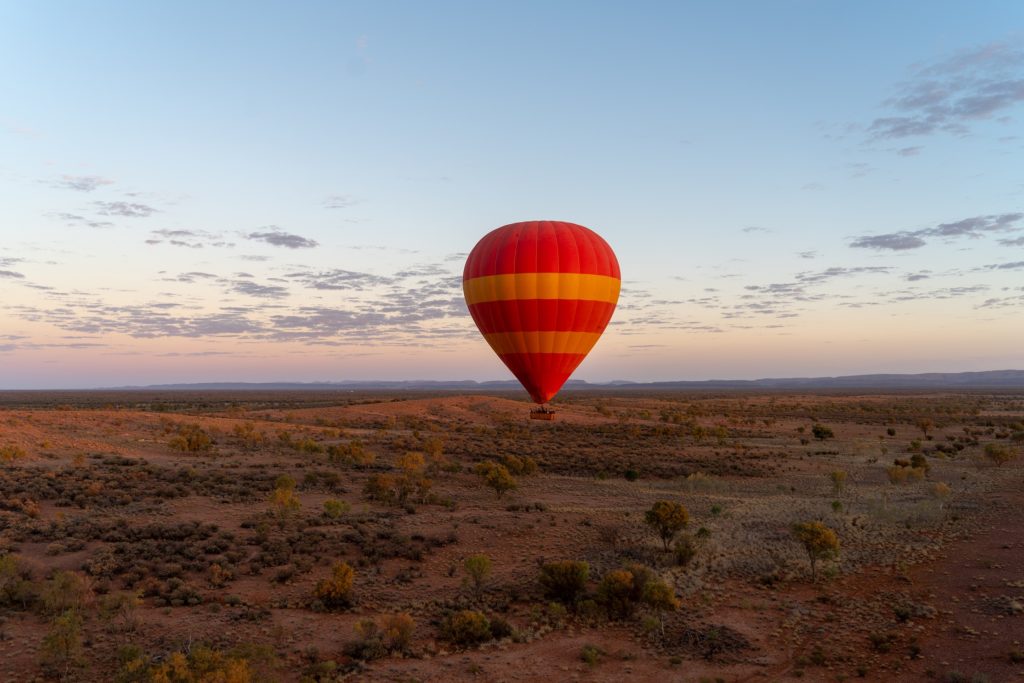 The next day, we set off on the 4 hour drive back north to Darwin to catch an internal flight to Alice Springs and continue our journey in the 'Red Centre'. The distance of Alice Springs to Katherine is over 1800 kms and would have taken 13 hours to drive, with not too many options of places to stop off. Despite feeling like we had all the time in the world, it made more sense for us to fly from Darwin to Alice Springs and drop the car back off. We landed quite late and checked into the very clean and functional Hilton Doubletree. We grabbed a quick drink and snack at the Jump Inn hostel, which had a huge selection of craft beers. You can buy a beer tasting paddle of 4 beers for $20.
The next morning we were up at 4:30am for a hot air balloon ride over the MacDonnell Ranges with Outback Ballooning. The price included complimentary transfers from our accommodation in Alice Springs, and a 30 minute flight over 10-20kms distance as the sun rose over the ranges, before sparkling wine and a light breakfast in the middle of the desert. Aside from the powerful sound of the balloon being inflated with hot air, it was incredible peaceful as we drifted quietly over the desert. The staff are friendly and professional and I highly recommend this bucket-list experience.
Once we were dropped back at the Hilton we walked into the centre of town and grabbed breakie at Page 27, just off Todd Mall, a café that wouldn't be out of place in Melbourne with its laneway location and eclectic mix of furniture including an old barista station turned table and old barber's chair. We then spent the rest of the afternoon browsing the large variety of galleries showcasing aboriginal art. Alice Springs is famous for being the hub to purchase aboriginal art and in recent years there's been a huge improvement in standards ensuring art is ethically purchased. There are local artists selling their wares by the side of the road, and some studios where you can watch the artists at work.
I fell in love with a stunning piece by Tony Sorby but unfortunately it was way out of our price range! Instead, we came home with a ceramic dot painted kangaroo by an artist named Mary Young Perrurle, who lives in the Santa Teresa Community. Our kangaroo is a smaller version of those proudly displayed in Alice Springs airport. We finished off our day in Alice Springs with dinner at the Alice Springs branch of Hanuman located in our hotel before a much-needed early night.
Kata-Tjuta and Uluru
The next day we headed to Alice Springs airport to collect our second car hire of our Northern Territory road trip that we booked through Thrifty. We had booked another 4WD but unfortunately they were out so swapped us for a 2WD. Luckily the roads to Uluru-Kata Tjuta National Park and the Ayers Rock resort are all sealed so we managed fine without a 4WD. We decided to drive directly to Kata-Tjuta in time to do a hike, and the drive took just under 6 hours through the desert, red dirt and bright blue skies. We saw a wild camel by the side of the road – the only reason for any semblance of traffic on this long drive!
Arriving at Kata Tjuta, or the Olgas, we started the Valley of the Winds hike, a challenging Grade 4 hike winding through the domes. We went as far as the first lookout due to time; we wanted to get back to the Uluru sunset viewing area for our first Uluru sunset. Watching the sunset of Uluru really is a special experience, watching the way the colours change with the light. It's a photographer's dream. Arrive early to get a good spot without too many people's selfie sticks in your way.After sunset, we drove to the Ayers Rock Resort, who have the monopoly on accommodation near Uluru. There are various options available; we opted for the 5-star Sails in the Desert, which includes a gumtree lined swimming pool, several dining options and the Mulgara Gallery showcasing indigenous art. I really wanted to experience one of the better known Northern Territory glamping options available, Longitude 131, but at $3000 a night (!) it was far more than we were willing to spend.
Our next day was spent experiencing sunrise over Uluru from the sunrise viewing platform, which I think I preferred to sunset but only just! There are so many ways to explore Uluru, whether you're exploring Uluru with kids or as a couple like we were. We decided to hire bikes from Outback Cycling to cycle the 10km base walk around Uluru. I loved cycling this, it's amazing to be able to see the many facets of Uluru up close without having to struggle walking in the intense heat, and would recommend this over the camel or Segway tours that are available – in fact we were actually going faster than the Segway's and overtook at least 2 groups.
As you make your way around the base, there are various points that are sacred to the Anangu people and they ask you respectfully not to take photos. I was really disappointed to see fellow tourists of various nationalities and ages completely disregarding these signs and snapping away, so I urge anyone intending to visit Uluru to please think carefully about your decisions and to respect the traditional owners who are kindly allowing us to visit this unique part of the world. I won't get into the debate over the Uluru climb, but needless to say we chose not to climb and I've welcomed it closure as of October 2019.
We were lucky to visit Uluru during the Field of Light exhibition, which will be in place until December 2020. This critically acclaimed installation by Bruce Munro is made up of 50,000 individual spindles of light with Uluru silhouetted in the background. There are various ways to experience the Field of Lights, and we decided to combine it with the well-known Sounds of Silence Uluru dining experience. If you're not sure what to wear to Sounds of Silence Uluru, I recommend wrapping up warm and wearing closed-toe shoes – I opted for jeans and a jumper with hiking boots. Sounds of Silence Uluru starts with a complimentary bus transfer from your accommodation to a dedicated viewing platform over Uluru.
You'll be spoilt with sparkling wine and canapes served as the sunsets, before a 3-course bush-inspired buffet dinner including food such as crocodile and kangaroo. Our chef for the night, Bish, was a one-man band producing high quality delicious food. There's unlimited beers, wine and soft drinks available. After dinner, there is a didgeridoo performance before all the lights are switched off and the resident star talker Sam takes you on a journey throughout the southern night sky. I have never been anywhere in the world where the stars are as clear as they were during our Sounds of Silence Uluru experience. Afterwards we were free to wonder throughout the Field of Lights exhibition for a good half hour or more before our return bus transfer.
Kings Creek Station and Kings Canyon
I was really excited the next day to drive to Kings Creek Station, a working cattle station 3 1/2 hours drive from Sails in the Desert. Kings Creek Station was built in the mid-80s by the owner, Ian, who is known as a 'great soul' by his employees. The station offers varying accommodation options, and we had booked in for the Dreamtime Escarpment package, which was by far my favourite Northern Territory glamping option. Arriving at reception, we were escorted down a dirt road (the 4WD would have been useful here) by General Manager Tarn in her red, battered Toyota Hi-Luxe with Leo the dog hanging his head out of the back. The road opens up to 3 glamping tents built into the escarpment with views over the desert, and a separate swimming pool built into an old shipping container for cooling off.
We were in the 'Drover's Camp' tent, which comes complete with an outdoor bathtub, outdoor shower, molten brown products and matching robes. The package includes a cheese platter, a generous drinks package (we had 3 bottles of wine and 6 beers provided for 1 night) and a self-cook BBQ hamper and breakfast basket. Other than Tam dropping our dinner off at 6pm, we didn't see another soul as the other tents weren't booked. We took a long leisurely bath before fetching our own firewood from the desert, enjoying the blissful isolation and silence. Will cooked up on our steak and sausages, before we grabbed a blanket and toasted some marshmallows over our firepit.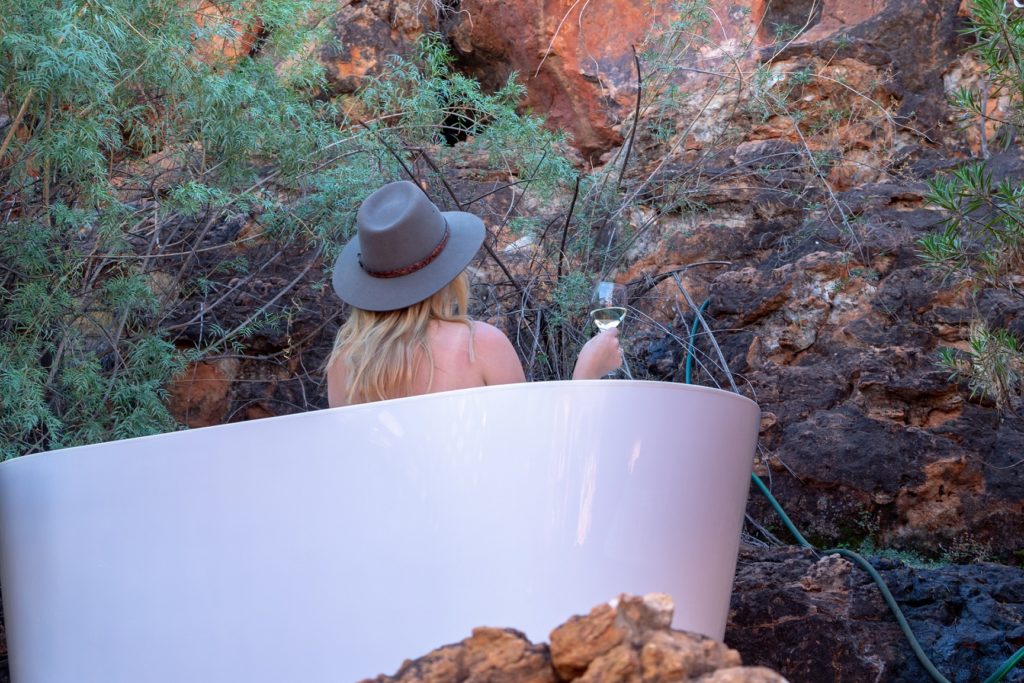 After one of our best night's sleep (the bed was ridiculously comfy), we cooked up our bacon and eggs and set off to Kings Canyon Resort, a half an hour drive away. Kings Canyon Resort, on the edge of the famous Kings Canyon, provides both resort style accommodation and camping opportunities. We opted for a package deal where we got 50% off our second night in the resort accommodation. We didn't think much of the resort itself, especially after a night glamping at Kings Creek Station. Kings Canyon resort was in need of a refurbishment and our room's hot water wasn't working so we had to be moved. In hindsight one night would have been plenty. That night we ate in Carmichael's restaurant, before an early night.
The next day we were up early to complete the challenging 6km Kings Canyon Rim Walk located in the Watarrka National Park, a highlight of a visit to Central Australia. The hike starts with some steep steps up to the canyon rim and it's very strenuous, even if you're fit and healthy, so do be aware of this when planning your visit. Make sure you carry plenty of water with you – there is no shade at the top of the canyon around the rim itself. If you're fit and able enough to do this walk, the Kings Canyon Rim Walk is by far one of the best walks I've done since living in Australia and I highly recommend it.
For our last night of our luxury Northern Territory road trip, we treated ourselves to the 'Under the Desert Moon' dining experience. We met outside of the main restaurant where we were greeted by Jonty, our chef for the evening, and he served us 3 canapes with Yellowglen prosecco. He'd whipped up some beetroot drenched smoked salmon, tomato parmesan and sea salt and maple-cured pineapple and strawberries. We were then led to a circular hidden dining area, with a central firepit, fairy lights and tikki torches for a stunning 5-course meal served with matching wines, including kangaroo, barramundi and quandong bush fruit. It was a perfect end to our trip.
Checking out in the morning, we made the 4 hour drive back to Ayers Rock Airport, winding down the windows to enjoy the last of the fresh desert breeze. We were able to fly direct back to Sydney, so this worked out as both convenient and time-efficient. We were incredibly sad to leave the Northern Territory and head back to reality; in an ideal world I would have loved to have kept driving south all the way to Adelaide.
I hope this luxury Northern Territory road trip itinerary has been useful and can help you plan your next 2 week break from work! 
Disclaimer: This post may contain affiliate links. If you purchase through my link, I may receive a small commission at no additional cost to you.