2023 was another busy year of travel for Will and I, which meant seeking out some of the most unique accommodation in Australia. As you'll know if you've read my 2018 AirBnB round up, we absolutely love AirBnB and use it frequently when exploring Australia and abroad. There's so much unique accommodation in Australia to choose from. Airbnb is our go-to for finding reasonably priced, creative options where we have a bit more flexibility than a hotel.
My favourite options for 2019 have ranged from romantic accommodation in the Blue Mountains and Kangaroo Valley, Jervis Bay holiday rentals to accommodation in Mudgee. I can't wait to see what unique accommodation in Australia we'll find in 2023.
You'll notice that all of these options are in New South Wales. Following the recent bushfire crisis, tourism in NSW has really suffered. Check out Lonely Planet's guide to New South Wales to plan your #NSWrecoverytrip. Consider booking one of these AirBnbs to support local businesses at this difficult time.
1. Wine Lovers Den, Mudgee
We visited this spacious, 3 bedroom house with my parents during a wine tasting weekend in Mudgee. There's plenty of accommodation in Mudgee to choose from, but this Mudgee Airbnb stood out for us. It reminded us of a smaller version of an antebellum plantation, and was incredibly homely. It's beautifully furnished, the pantry is well-stocked, and has a sprawling garden. You can stroll into the centre of town in about 20 minutes to grab something to eat and drink. We did this on our second night and visited Roth's Wine Bar.
If you're wine tasting in Mudgee, or in other parts of Australia, check out this list of my favourite boutique wineries.
We had dinner at the large communal table before sitting in this Mudgee AirBnB's peaceful garden. The sprawling garden is a perfect place to enjoy a glass of wine as the sun sets. There's a BBQ if you fancy cooking outdoors, as well as a wood-burner if visiting Mudgee in the colder months. There was also a complimentary bottle of Mudgee Chardonnay left in the fridge for us, a lovely touch. This is one of the reasons I love staying in unique accommodation in Australia like Wine Lovers Den.
Whilst staying in Mudgee, I highly recommend a wine tour. Amanda, the host, was incredibly helpful and recommended us two fantastic options. We ended up choosing Mudgee Explorer Tours and had a brilliant day. If you're researching places to stay in Mudgee, I highly recommend Wine Lovers Den.
Check out why you should visit Mudgee for a weekend getaway from Sydney
2. Eco Lodge Retreat, Mount Victoria
It took Will and I over a year and a half before we planned a Blue Mountains getaway, crazy considering the Blue Mountains are only an hour and a half drive from Sydney. We fell in love with this Eco Lodge Retreat in Mount Victoria when searching for romantic accommodation in the Blue Mountains. This eco lodge has been built as a sort-of treehouse in amongst the gum trees, placing it firmly on my list of the most unique accommodation in Australia.
It's cosy, with a ridiculously comfy bed on the second floor and wood burner, perfect to hunker down with a glass of wine. I also loved the bookcase which has been built directly into the stone wall. There are plenty of board games as well as a small kitchen. We did struggle a little with a lack of utensils to cook a full meal, but the complimentary bottle of wine and breakie options more than made up for it! It's in a central location so perfect for exploring all this area has to offer, including hikes through the bush, cafes and restaurants. Check out the nearby Pulpit Rock Lookout and the 4.7 mile Mount Piddington loop walk.
3. Zuma Cottage, Katoomba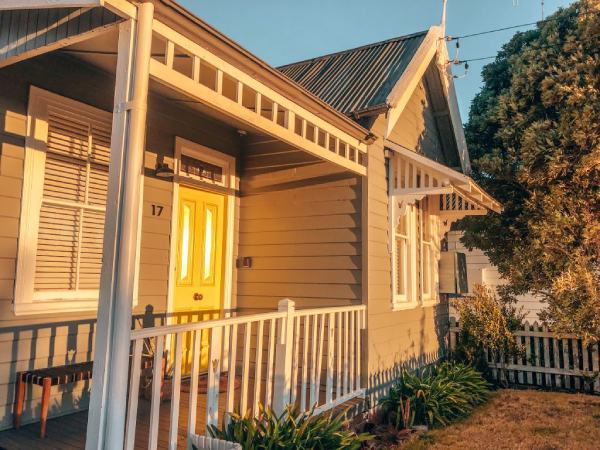 I visited Zuma Cottage on another Blue Mountains getaway, this time with some of my girlfriends. It was in a great central location in the town of Katoomba, within easy access of restaurants, cafes and lots of hikes and viewpoints including the famous Three Sisters. We completed the challenging 6.6km Ruined Castle walk when we stayed at Zuma Cottage, which I highly recommend. Zuma Cottage was also reasonably priced, especially when split between 4. The cottage is adorable, as it says on AirBnB, 'Zuma Cottage seamlessly mixes traditional cottage features with modern living'. It's this mixture of traditional features and modern living that place it on my list of unique accommodation in Australia.
It has a bright yellow door and a small veranda, as well as an outdoors dining area out the back. The décor inside was stylish and homely; I particularly loved the island in the kitchen and the wood and black units. There's also a wood-burner if you get chilly, alongside electric heaters for each of the bedrooms. The lockbox instructions were easy to follow, so it was easy to get access to the cottage. It was exactly what we needed for our cosy 2 day Blue Mountains getaway.
4. Spiral House, Robertson
Now, if I had to choose only one place on this list to visit again, it would have to be Spiral House, an Airbnb in the Southern Highlands and top of my list of unique accommodation in Australia that we've visited. This luxury couples retreat is perfect for romantic getaways in NSW. It's only a 2 hour drive from Sydney and peacefully secluded, with special luxury touches. Spiral House is part of Cloud Farm Studios, where Celeste and Stephen are resident artists. If you have time, get in touch with them to visit their studio. If you're thinking about where to stay in Southern Highlands you simply must visit Spiral House.
Spiral House is a miniature home, perfect for two, located on the highest point of the Illawarra escarpment and Mount Murray, with absolutely stunning views over Kangaroo Valley. There's a completely private outdoor bathtub, and even though we planned our romantic getaway in July (winter in NSW) we still made sure to use the bath, enjoying a glass of Piggs Peake wine as the sunset.
There's so much to do in and around Roberston on your Southern Highlands getaways, you'll be spoilt for choice. It was tough to leave Spiral House, with its ridiculously comfy bed, but we squeezed in some hikes and waterfall chasing at Carrington Falls, Fitzroy Falls and Belmore Falls. We also visited the famous Robertson Cheese Shop and the quaint town of Berima for an anniversary lunch at Eschalot.
5. Eagles Point, Callala Bay
Eagles Point, located in Callala Bay, is everything you could want from your Jervis Bay accommodation and more. It's tough when deciding where to stay in Jervis Bay as there's so many options to choose from (I wrote about Minerva Cottage in my 2018 AirBnB round up). Eagles Point is a large, stylish holiday rental, a short 5-10 minute walk from the gorgeous Callala Bay. It sleeps up to 5, with 3 bedrooms, so it was perfect for our recent group trip.
It's spread over two floors, although the downstairs is really just a games room and bathrooms. All three bedrooms, another bathroom, the kitchen and dining area are all located on the second floor. There's also a wraparound balcony which is the main highlight of this Jervis Bay accommodation option. The spacious hot tub and decent BBQ are located out on the balcony, so it's a great place to spend your evening.
Eagles Point is a great base to explore Jervis Bay from; there's so much to see and do. We went scuba diving with Dive Jervis Bay and were lucky enough to see absolutely massive manta rays, and then crashed at nearby Callala Bay before a BBQ dinner. If you're looking for where to stay in Jervis Bay as a group, you can't get better than Eagles Point.